See what's hAPPening at the J
Stay in the know with our FREE app. Easily find up-to-the-minute schedules, receive live alerts on your phone, and so much more!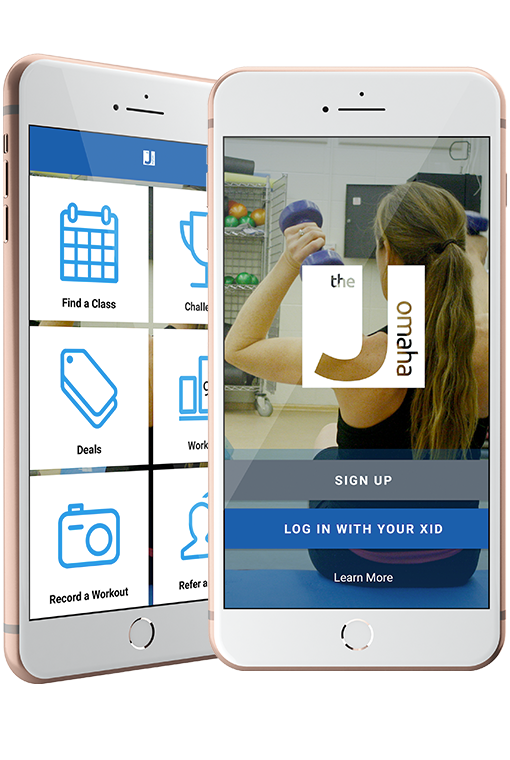 Why download the JCC App?
Download the Omaha JCC App and have a wealth of information at your fingertips! Through the app you can:
View the Group Exercise schedule in real time to see cancellations, subs, changes, etc.
Receive instant notifications of pool closings and schedule changes
Connect to almost any wearable device (Fitbit, Jawbone, Polar, Garmin)
Connect to other apps such as Nike and MyFitness Pal
Participate in group challenges. Challenges will run throughout the year with various goals and prizes.
Set and record your own fitness goals.
Get program information and trainer tips
Once you've downloaded the App…
LOG-IN OR CREATE AN XiD
XiD's can be created through the app or on a treadmill and should be your phone number to help make it easy to remember. It is the same id you use to log-in to the treadmills, climbmills, or bikes.
Any information tied to your XiD is only used for JCC challenge purposes and is not shared with anyone outside the JCC.  Personal information such as birthday, or weight, is not visible to anyone other than you.
You must allow "push notifications" in order to receive notifications on your phone
TRACK YOUR WORKOUTS
Workouts can be tracked by logging into the cardio equipment, connecting a wearable device to the app, or by manually logging your workouts.
If you have any questions on our app, please contact the JCC Fitness Center Staff at (402) 334-6472.