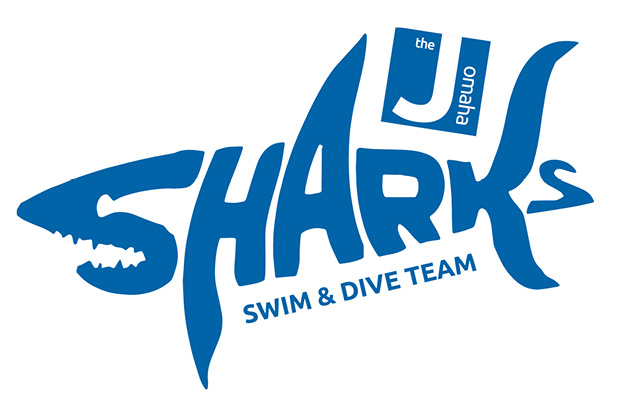 Open to Members ages 5-18, JCC Sharks Swim & Dive Team is all about learning and having fun. We strive to help kids progress in ability and technique and encourage them to challenge themselves at practices and meets. We participate in the Greater Omaha Swim League, a competitive league. Swim & Dive Team is a great way to learn everyday life such as teamwork, leadership, and personal goal setting. The summer 2021 season will run June 1st – July 23rd.

Pricing
Prices are listed per season.  Swim & Dive Team is open to J Members ONLY.
SWIM TEAM ONLY
Early Rate: $150 – Expires 3/24/21
Regular Rate: $165
Campers, All Ages
Practice Time: 8:00-9:00 a.m.
code: 14-500
Non-Camper
Practice Time: 9:00-10:00 a.m.
code: 14-501
Camper & Non
Practice Time: 4:30-5:30 p.m.**
code: 14-502
** The afternoon session will have morning practices on Wednesdays.
DIVE TEAM ONLY
Early Rate: $150 – Expires 3/24/21
Regular Rate: $165
Camper & Non
Practice Time:  9:00-10:00 a.m.
code: 14-503
SWIM AND DIVE TEAM
Early Rate: $202 – Expires 3/24/21
Regular Rate: $225
Practice Time: 8:00-10:00 a.m.
code: 14-504
MANDATORY DEPOSIT
All participants will be charged a $25 deposit. This fee must be paid prior to participating in the first practice. Parents that volunteer for a total of 4 hours or an entire swim meet will receive their $25 deposit back at the end of the season. Those that do not volunteer will not receive their deposit back. If a deposit was not made and the volunteer commitment was not fulfilled $25 will be charged to the JCC Member Account.
Swim Team Min: 30 / Max: 175
Dive Team Min: 6 / Max: 15
All participants must be a J member, in good standing, for the duration of the summer season. Early Bird rates expire March 24, 2021.
Dates to Remember
All times and dates are subject to change.
Summer Season: June 1- July 23
Sunday, May 23 – Parent Meeting & Swim Testing
Details on the 2021 season will be given at the Parents Meeting held on May 23rd. Any swimmer new to the JCC Sharks Swim Team will be required to take a swim test before their first day of practice to ensure the swimmer's strength and ability is ready for swim team practices. If a preregistered swimmer is unable to complete and pass the evaluation a full refund of the program fees will be credited back to their account.
1:00 p.m. – Parent's Meeting + Coach Meet & Greet
2:00 p.m. – Mandatory Swim Testing for All New Swimmers
Tuesday, June 1 – First Day of Practice
Wednesday, June 9 – First Dual Swim Meet
Monday, July 5 – No Practice
July 12-13 – Prelims & Finals Week
July 19-23 – Fun Week
Wednesday, July 28 – End of Season Banquet at the J
Areas of Focus
Our coaches are experienced swimmers with lifeguard and safety training. Coaches work with all levels to:
• Build proper form& endurance
• Build team spirit
• Introduce swimming as a sport
• Learn a fun and healthy life skill
Registration Includes
• 8 weeks / Season: June 1st – July 23rd
• 5 dual meets
• All meet fees
• End of season banquet
• Doughnut Fridays
• Team T-shirt and swim cap**
**Guaranteed with registration by 4/26
Questions? Contact us!
Call: (402) 334-6473
Email: jccswimteam@jccomaha.org
Ben Novak  |  (402) 334-6473
Renee Schomburg  |  (402) 334-6473
Call Us
JCC Registrar (402) 334-6419 Member Services (402) 334-6426
Stop By
333 South 132nd Street Omaha, NE 68154