Kidz Inn After Care
Members, K-6th
Kidz Inn is for families needing after school care for the entire school year. We provide age appropriate activities in a safe, nurturing and exciting environment.
Kidz Inn is a state licensed childcare program, which means we meet the highest standards of our state regulations for childcare centers.
We give kids one-on-one attention as we promote their social, emotional, cognitive, and physical development through our curriculum. Kids love it because they run off steam in the gym and outdoors, get help with homework, get creative with art projects, play games and eat snacks. Parents love it because they know their children are being cared for in a safe environment by our professional staff.
All School After Care
Mondays – Fridays, 3:30 – 6:00 p.m.
Millard Public School Early Dismissal
Wednesdays, 2:15- 6:00 p.m.
Friedel Jewish Academy Early Dismissal  (Nov. – Mar.)
Fridays, 2:00 – 6:00 p.m.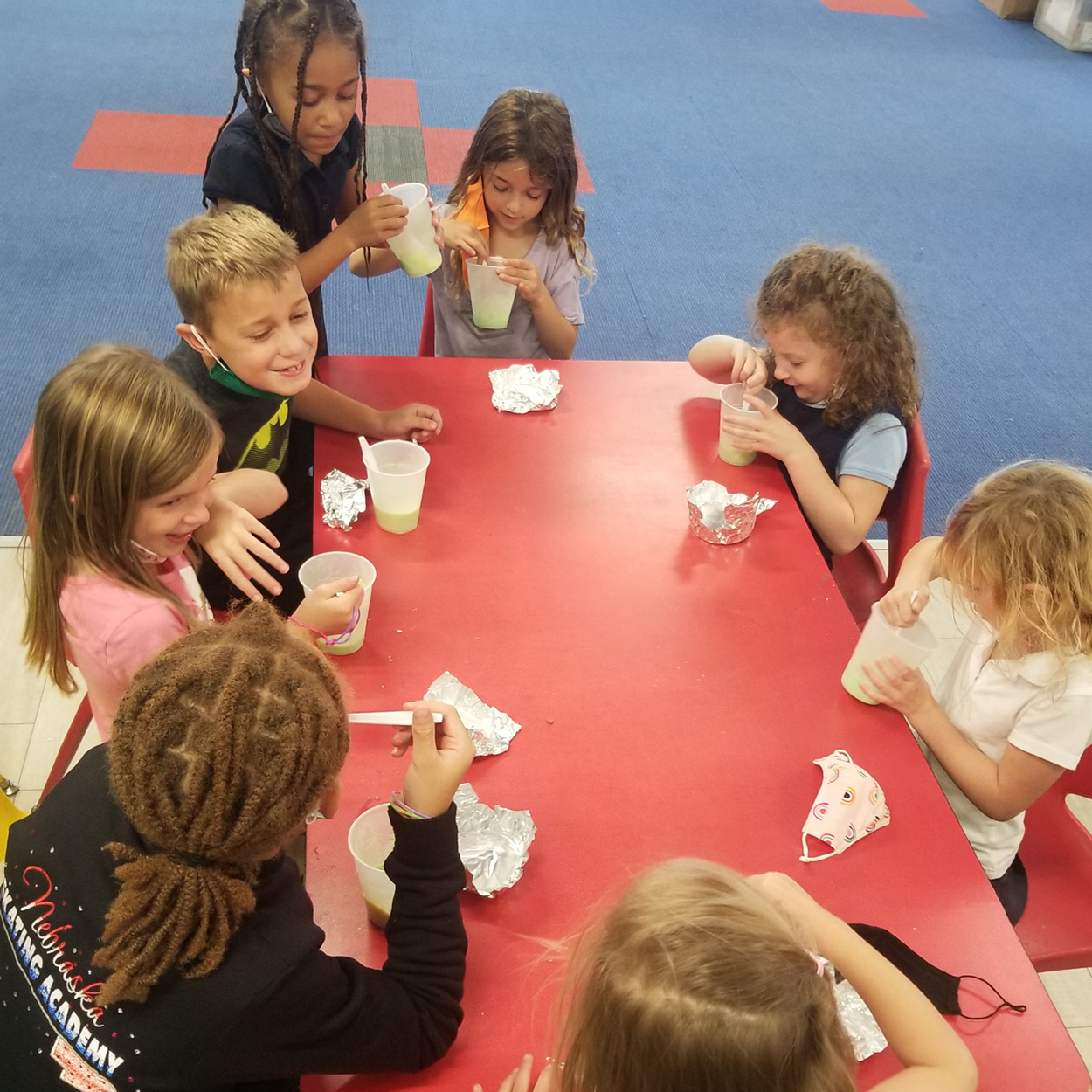 After Care Includes:
Kosher Snack
Afternoon Activities & Study Time
Transportation (see below)
Enhancements
Kidz Inn enhances your child's school day experience in the best way possible. Children will be offered a variety of programming throughout the week with a different topic focus each day. Topics can range from:
Nutrition & Cooking
Sports & Physical Activity
Science & Technology
Art & Culture
Program Pricing
Open to JCC Members only. Membership must be maintained throughout the year.
Fees are calculated and charged on a monthly basis.
Registration for School Break Specials is still needed.
No fee reductions for missed days (holidays, vacations, illness, etc.)
Additional fees apply for early dismissal days
Must attend the same days each week
No drop-in option
2023/2024 Rates
5 Days per Week: $225 / Month
4 Days per Week: $200 / Month
3 Days per Week: $180 / Month
Registration Fee: $20 (Fee is waived if registered before August 1, 2023.)
Change Fee: $25 (Per schedule change after registration is submitted)
Additional charges:
Millard schools: $25 per month for Wednesday early dismissal
Friedel (November – March)
$25 per month for Friday early dismissal (Kidz Inn participants)
$60 per month Non Kidz Inn care (2:00 – 3:45pm)
$90 per month Non Kidz Inn care (2:00 – 6:00pm)
Transportation
Transportation is available to area schools at a nominal rate. We transport from Aldrich, Columbian, Cottonwood, Friedel, Grace Abbot and St. Vincent de Paul. Other schools may be added as needed. There is no transportation fee for Columbian and Friedel children, as they are walked over each day.
Transportation
$60 / Month
For all kids who need transportation (not based on days attending)
Medical Form
Parents must complete a Youth Health Form (for each child) and return it to the JCC Youth Department on or before the first day of the program. The Health Form should be updated every year. Click HERE to download the Youth Health Form.
JCC Youth Department Discipline Policy
In order to facilitate a safe, secure, fun environment for all participants attending JCC Youth Department activities, the following policy has been implemented. View and download the policy here.
Unaccompanied Youth Policy
Member children ages 11 and older are permitted to be unaccompanied in JCC facilities without parental or adult supervision.
This does not include the pool areas. Children, under age 12, must be accompanied by an adult at all times. Children, under age 12, must also take a 25-meter swim test to determine their swim ability. Tests will be administered by a lifeguard. Children will be issued a wristband based on their results.
This does not include the fitness center. The minimum age for fitness center usage is 13. However, teens ages 13–16 must go through a mandatory orientation to ensure a safe and effective workout.
The following spaces are not hang-out areas: locker rooms, the lobby entrance, hallways, art gallery, membership services entrance, health spa entrance and/or couches/chairs in those areas.
Unaccompanied youth are expected to display appropriate behavior: consideration of others, respect for the facility, and utilization of appropriate language, at all times. If a child, 11 years of age or older, is not behaving in a respectful manner (as deemed by the JCC staff), a JCC staff member will contact his/her parent or guardian, asking them to promptly collect their child. Some examples of unacceptable behaviors include: destruction of property, running through the halls, failure to follow staff directives, rowdiness, and use of foul language. If a child is sent home, JCC privileges may be suspended until a meeting is convened with the parent or guardian.
The JCC cannot be held responsible for members age 11 and over attending the JCC and not enrolled in an organized activity.
Call Us
Member Services
(402) 334-6426
Stop By
333 South 132nd Street Omaha, NE 68154
Contact Us
Youth Department
(402) 334-6409