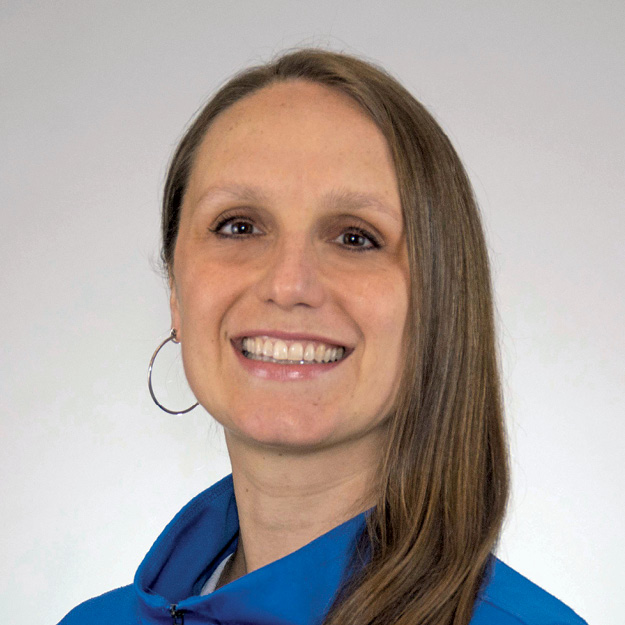 JCC Performing Arts Director
Esther Katz was trained at The Professional Children's School in Philadelphia, PA. She has also studied at the Central Pennsylvania Youth Ballet, Joffrey Ballet, Koresh Dance, University of the Arts, and Temple University where she was on a dance scholarship. Her ballet training includes both the Cecchetti & Vagonova methods. Her modern dance background is in Graham, Anthony, & Horton. Esther was a member of many independent dance companies in Philadelphia. She demonstrated for Philadanco company classes under Pat Thomas and taught ballet and modern dance at The Professional Children's School for 7 years before moving to Omaha. She previously danced with UNO's The Moving Company and was a founding member of Tbd. Dance Collective. Esther taught in the OPS Special Ed. Program before starting as the Dance Director at the J in 2006, although she been teaching ballet at the J since 2004. In 2018 she was the recipient of the Jody and Neal Malashock Award for Professional Excellence.
Performing Arts Dance Associate
Lauren Wichert is a Nebraska native. She holds a BA in English and a minor in Dance from Creighton University. Lauren is a founding company member in tbd. Dance Collective, an Omaha based contemporary modern dance company. She has been teaching dance and aerial arts in Omaha for eight years. This will be her fourth year at the Jewish Community Center.
Performing Arts Theater Associate
Courtney Baker
Courtney Baker got her dance training from the JCC and will be beginning her 12th year teaching here. She was a founding member of the JCC Dance Training Company. She holds a Bachelors and Masters degree in Music Education from UNO.
Domanic Brown
Domanic is beginning his 6th year as an instructor at the JCC. He is also the assistant director for South High School's dance company – La Fuerza.
Leigh Chaves
Leigh is beginning her 5th year as an instructor at the JCC. She holds her BA in communication-journalism from Truman State University and a Master's Degree in education from University of Central Missouri.  She currently dances with Rugged Soles here in Omaha.
Alyssa Donley (Grimsley)
Alyssa, an Arkansas native, is beginning her second year as an instructor with the JCC. She graduated from the University of Oklahoma with a BFA in Ballet Performance summa cum laude. She dances now in her 6th season with American Midwest Ballet.
Alyssa Hansen
Alyssa grew up dancing in Omaha. She was dance team captain for two years in high school. She also joined Omaha South High School's dance program and became a member of La Fuerza Dance Company for 3 years. She has continued her dance education at UNO with a minor in dance while dancing with the UNO Moving Company. This is her third year at the JCC.
Madeline Koesters
Madeline Koesters holds a B.F.A. in Dance Performance and Choreography with an emphasis in ballet and modern dance from the University of Missouri-Kansas City Conservatory of Music and Dance. She begins her 2nd year as an instructor at JCC, and her second season as a dancer at American Midwest Ballet.
Wendy Larson-Cooper
Wendy, former principal dancer with Omaha Ballet, she is beginning her 34rd year on staff at the JCC.
Lynne Nevin
Lynne holds an Associate Diploma through the ISTD Professional Teaching Examinations and has studied the Alexander Technique, she also has a BA in Art History from UNL. Lynne was a company member of Omaha Ballet.  She resumed teaching here at the JCC 11 years ago.
Jonnie Robinson
Jonnie is beginning her 4th year as an instructor at the JCC. Jonnie was born and raised in Omaha and has danced since the age of 2. Previously Jonnie taught ballet, tap and jazz for children at Mildred Collins School of Dance.
Katerina Schweitzer
Katerina is excited to begin her 3rd year teaching ballet at the JCC. She graduated from the Gelsey Kirkland Academy of Classical Ballet and has Associate of Arts degree with Indian River State College.  She is also beginning her third year with American Midwest Ballet as a full company member.
Katie van der Mars
Katie holds a Bachelor's Degree in Fine Arts in Ballet Performance from the University of Utah. She is a company dancer with the region's professional ballet company, American Midwest Ballet. In her 7 years dancing with the company, she has performed leading roles including Titania in 'A Midsummer Night's Dream', Sugarplum Fairy and Snow Queen in 'The Nutcracker', the principal female in George Balanchine's 'Valse Fantaisie', and Princess Florine and Bluebird Pas de Deux from 'Sleeping Beauty'. This will be her 6th year at the JCC.
Lauren Wichert
Lauren is excited for her first year as an instructor at the JCC. She holds a BA in English and a minor in Dance from Creighton University. Lauren currently dances with tbd., a contemporary modern dance collective. Lauren has been teaching dance around the metro for over 6 years.
Emmanuel Chavez
Emmanuel Chavez graduated from Creighton University in 2015 with a Bachelors in Arts and Sciences. His interest for music began with a piano in his living room. He would mainly practice playing the piano when no one was around. As he grew, his interest in music became a passion that he now loves to share with others. Emmanuel believes that music can change lives for the better. He believes that everyone has the potential to express a side of themselves they may not know through music. Besides playing piano, Emmanuel enjoys playing the saxophone and going to the gym.
Margaret Currie
Margaret has accompanied dance classes at the JCC from 1991-1995 and resumed in 2012. She has also accompanied at the Omaha Academy of Ballet , School of Ballet Omaha, Daniel J. Gross High School and Brownell-Talbot. She holds a B.S. degree in Bible/Music from Faith Baptist Bible College and was a private piano teacher for 24 years.
Kathleen Griffith
 Kathleen is a full-time accompanist with Omaha Public Schools. In addition to teaching piano lessons, she regularly plays piano at area churches as well as with the JCC dance program, and volunteers her time as a board member of the Omaha Chamber Music Society. This is her 4th year with the JCC.
Bernadette Smith
Bernadette is a long time Omaha musician.  She studied at the UNO and received a BA/MA – Double Major, in English & Music.  She has been accompanying dance classes since 1961, this will be her 13th year at the JCC.  She is a piano soloist since 1992 and played in the The Fontenelle Piano Trio and Misbehavin'.  She was a choir director from 1998-2014 and was a member of the Omaha Musicians Association and the American Guild of Organists.  Bernadette has been the music director for musicals around the city since 1999 and currently is the JCC Music Director among other places.  She has taught piano lessons since 2005 and is part of the Independent Music Teachers Organization.
Anna Yuz-Mosenkis
Anna holds a masters degree in Music from Kiev, Ukraine. She has played for the JCC since the Fall of 1991.  She has taught piano lessons for many years and just began teaching Piano here at the JCC last year.