JCC Goldstein Family Aquatic Center
Taking a refreshing dip in our outdoor pool or relax and soak up some sun in one of our many lounge chairs. The JCC Goldstein Family Aquatic Center has features for the entire family to enjoy!
This beautiful outdoor aquatic area houses:
• Zero Depth Entry Leisure Pool with Aqua Play Structure
• Lazy River
• Splash Pad
• Water Slide
• Competition Pool with Diving Board & Climbing Wall
• Concession Stand
• Ample Deck Seating with Sun & Shade Areas
Policies & Procedures
Please take a moment to review our policies and procedures before your visit. These include mandatory swim testing for children ages 11 and under, prohibited item list, and pool rules.
The outdoor competition pool will CLOSE for the season on Sunday, October 27th.



OCTOBER HOURS: Competition Pool Only

ONLY THE OUTDOOR COMPETITION (LAP) POOL WILL BE OPEN. All programs and pool hours will be dependent on what the air temperature feels like. The chart below illustrates the standards that will be followed. We will base all decisions off of NOAA temperature readings.

Competition Pool ONLY
Friday
5:00 a.m. – 6:30 p.m.
Saturday – Sunday
7:30 a.m. – 6:30 p.m.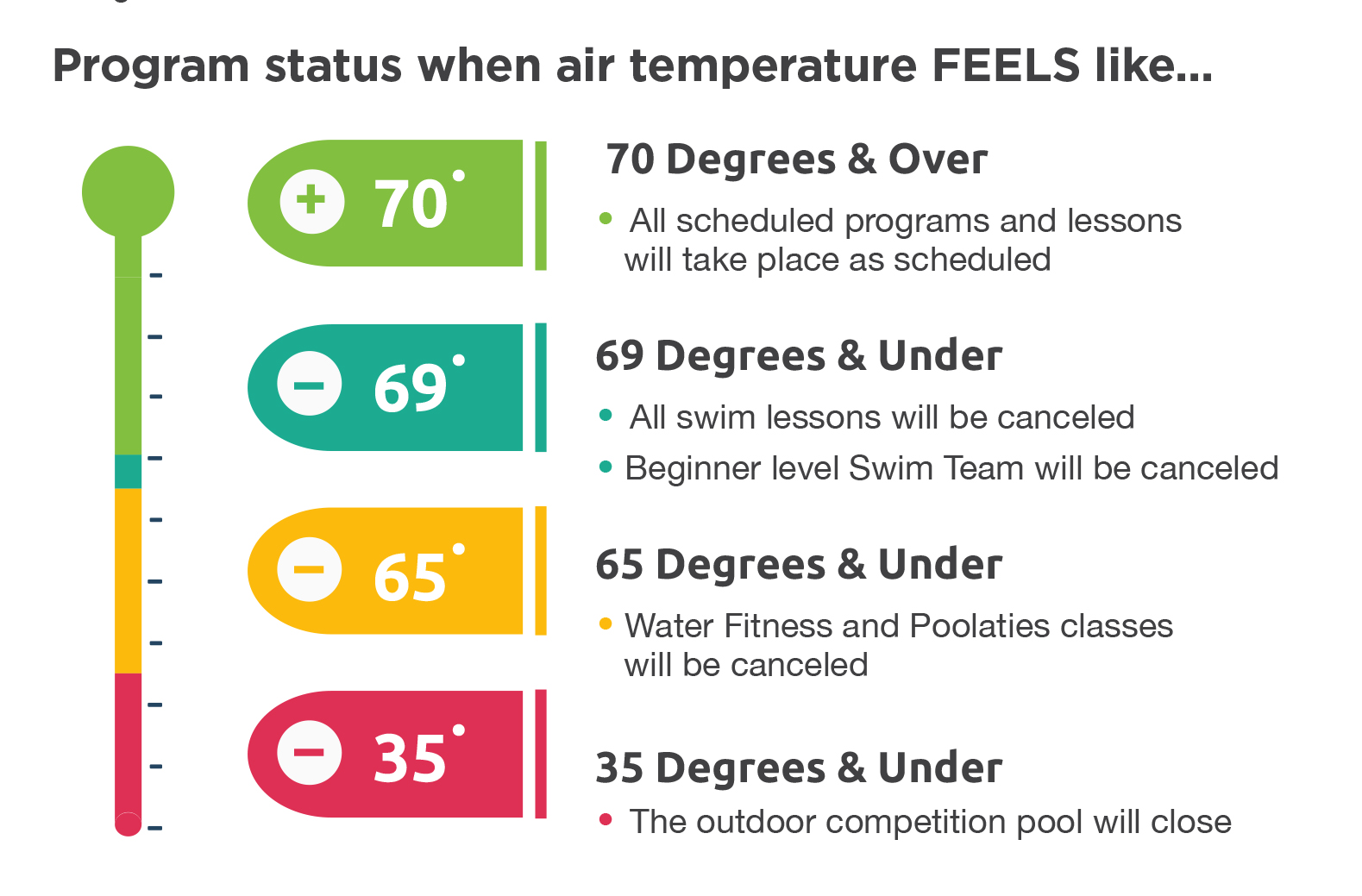 Air Temperature Guidelines
The health and safety of our Members is always our number one priority. When the air temperature feels below the listed levels, we will cancel the corresponding programs. We follow the official National Weather Service / National Oceanic and Atmospheric Administration's weather postings. Decisions will be based solely on their data for what the air temperature feels like. If you have questions on program availability, please call Member Services at (402) 334-6426.
NEW! Receive Instant Pool Notifications On Your Phone
Pool closures can happen quickly due to inclement weather. Stay in the know. Download and install the Omaha JCC app to receive instant pool schedule notifications on your phone! The app is FREE and easy to use. Remember to allow for "push notifications" to receive the updates. Learn more…
We extend our sincerest gratitude to the Goldstein Family, Michael Staenberg, Tom Fellman, and Howard Kooper for making this vision a reality.
You Belong Here
The Jewish Community Center has been a big part of Omaha for more than eight decades! We opened our doors in 1926 and still, today continue to serve everyone in the community with our state-of-the-art facilities, outstanding programs, and dedicated staff. We've been here in the past, we're here today and we'll be here tomorrow.