Pennie Z. Davis Early Learning Center
Your Child Deserves the Best – whether it's our full-time care or you prefer a part-day option, the Pennie Z. Davis Early Learning Center offers the best early childhood experience available for children ages six-weeks through five years. Our warm home-like environment, the region's most experienced staff, an extraordinary facility, and innovative programs provide an excellent introduction to your child's learning experience.
The Pennie Z. Davis Early Learning Center (ELC) is a place where children can develop healthy independence, positive social interactions and strong thinking skills in a developmentally and educationally appropriate Judaic environment…a place where they can explore and play, and make independent choices while feeling secure and warmly nurtured.
The ELC has earned accreditation from the National Association for the Education of Young Children (NAEYC) – the world's largest organization working on behalf of young children. NAEYC accreditation is a quality-improvement system that uses a set of 10 research-based standards to recognize and drive quality-improvement in high-quality early learning environments. NAEYC-accredited programs are always prepared for unannounced quality-assurance visits during their accreditation term, which lasts for five years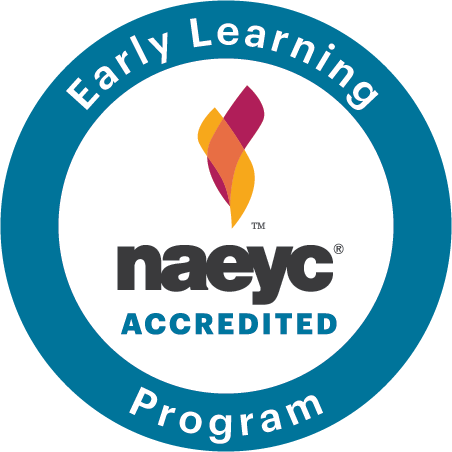 Our Facility Offers:
Quiet "sleep rooms" for babies
Unique wet-play areas
Kitchens equipped for children
Art room
Large, well-equipped playgrounds
Access to JCC physical education areas, including the gym, pools and  outdoor space
Intergenerational experiences with the Rose Blumkin Jewish Home
Learning Commons and access to the Jewish Federation Kripke Library collection
Location: 337 South 132nd St, Omaha, NE 68154
Telephone: (402) 334-6413
ELC Director: Lisa Cooper
The Basics...
Year-round care for children ages 6 weeks to 6 years
Mondays – Fridays, 7:00 am – 6:00 pm
Full-time, part-time and combination schedules available for children ages 18 months and older
Infant care – 6 weeks to 18 months (Full-time only)
Learning environment characterized with art, science, math, language/reading development, music and movement every day in every classroom.
Character-development, value-driven programming
Licensed by the State of Nebraska Department of Health and Human Services
NAEYC Accredited (National Association Education of Young Children)
The ELC facility utilizes open living spaces using great rooms and large interactive kitchens for children and teachers to enjoy. It's more than school, it's your child's home away from home.
We value education.
It is our philosophy that young children represent a unique segment of society with special needs and behaviors.  Children's relationships and experiences during their early years of life have a significant and crucial impact on their later growth and development.  We believe that the importance of these formative years must not be underestimated.  We are committed to the extreme importance of our role in your child's total development.  The daily environment must provide your child with all of the components necessary for his/her emotional, social, physical, and cognitive well being.
ELC Goals
To continuously attend to the needs of each individual child by helping them feel safe, happy, and comfortable throughout the day.
To develop in each child independence, confidence, and a feeling of self-worth as an individual and as a member of a group.
To stimulate each child's curiosity, sense of wonder, and motivation to learn about the world around them by establishing an age-appropriate, hands-on, and stimulating environment.
To develop in children social responsibility by teaching goodwill towards others and respect for the environment.
To give young children and their families a sense of Jewish identity and culture. To develop in children a love for music, art, and drama.
To specifically develop in our children age-appropriate, cognitive, and physical skills in the following areas: language, listening, visual discrimination, large and small motor skills, writing, math, and science.
A Word
From An ELC Parent
" We have had a great experience at the ELC!
The teachers, the curriculum, the extras offered
are truly amazing for this age group. These kids
will benefit for years to come. "
You Belong Here
The Jewish Community Center has been a big part of Omaha for more than eight decades! We opened our doors in 1926 and still, today continue to serve everyone in the community with our state-of-the-art facilities, outstanding programs, and dedicated staff. We've been here in the past, we're here today and we'll be here tomorrow.